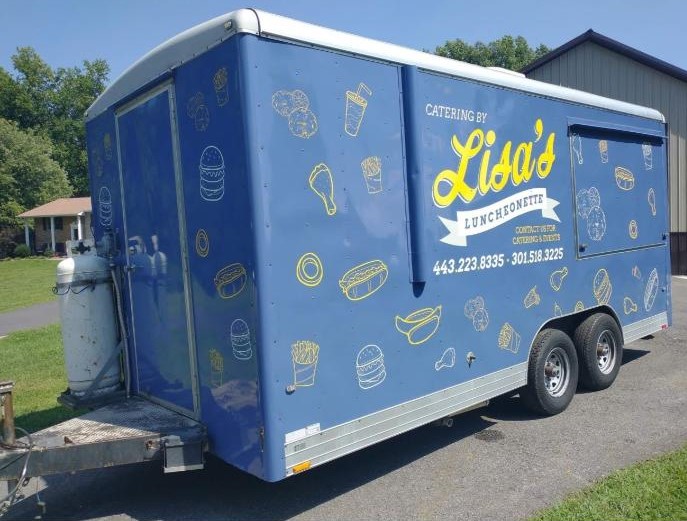 2023 Season
We are available to cater to your event and we are capable to serve the following:
Crabcakes, Soft Shell Crab Sandwiches, Shrimp Salad Sandwiches, Fish Sandwiches, Shrimp and Clam Baskets, Seafood Basket, Oyster Basket, Chicken Tenders, Chicken Wings, Fried Chicken, Chicken Steak & Cheese Subs, Beef Steak & Cheese Subs, Fries, Sweet Potato Fries, Fries, Nacho Cheese Fries, Onion Rings, Mozzarella Sticks, All Beef Hot Dogs, Hamburgers, Cheeseburgers, Italian Sausages, Blooming Onions, Funnel Cakes, Fresh Brewed Tea, Coffee, and a Variety of Sodas.
We also do catering for formal events as well.
We will travel up to 50 air miles from the Annapolis Area.
Please Call Lisa at 443 – 223 – 8335 or Jimmy at 301 – 518 – 3225
Or you can email us at lisasl[email protected] to schedule an event or pricing for catering
Please call or send info by email so we can book your next event
LIST OF EVENTS WE WILL BE ATTENDING
*****************
Maryland Chicken Wing Festival
Maryland Chicken Wing Festival
******************
******************
Let's Go Music Festival
June 2 – 4
At the Anne Arundel County Fairgrounds
******************
June 10th 2023 – Rodeo at the Anne Arundel County Fairgrounds
******************
September 13th thru 17th 2023
"The Anne Arundel County Fair"
located at the fairgrounds off rt 178

****************
October 2nd & 3rd, 2021 –
Fall Craft Show
at The Anne Arundel County Fairgrounds

****************